Open for submissions: Theme Issue "Genome Instability and Human Diseases". Guest Editor: Dr. Saikat Nandi, M.S., D.Phil. (Oxford).
This special issue focuses on new insights into our understanding of genome instability arising from a myriad of cellular and metabolic processes, such as genome replication, DNA damage from spontaneous and environmental insults, epigenetic modification, telomere erosion etc.
Open for submissions: Theme Issue "Glycocalyx and extracellular matrix in cardiovascular disease and cancer". Guest Editor: Dr. Ye Zeng.
The special issue aims to highlight recent progression in extracellular matrix and glycocalyx, with an emphasis on the detection, visualization, clinical implications and the response and underlying mechanism in the pathogenesis of cardiovascular disease and cancer.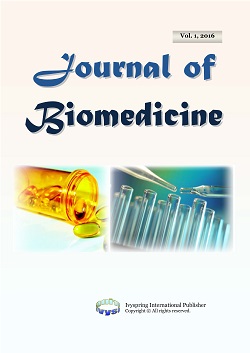 Journal of Biomedicine is a multidisciplinary journal publishing papers of high quality in the study of biology, biological processes and application in medicine. Examples of topic areas are molecular medicine, gene therapy, cancer biology, immunobiology, pharmacogenomics, drug delivery and discovery, chemical biology, pharmacology, physiology, and basic or clinical researches in various diseases.
Types of articles:
Research papers
Short research communications
Reviews or mini-reviews
Commentaries
Perspectives, opinions.
Latest articles:
---
Research Paper
Anti-inflammatory Effect of JBP485 on Dextran Sulfate Sodium-induced Colitis in Mice
Sayo Horibe, Shoji Kawauchi, Shuji Yasuike, Shigeto Mizuno, Ikuo Kato, Yoshiyuki Rikitake
J. Biomed 2017; 2(2): 101-108. doi:10.7150/jbm.19770
[Abstract] [Full text] [PDF]
Review
Melanoma from Molecular Pathways to Clinical Treatment: An Up to Date Review
Christoforos Kosmidis, Sofia Baka, Konstantinos Sapalidis, Nick Mixalopoulos, Stefanos Atmatzidis, Harilaos Koulouris, George Anthimidis, Nick Varsamis, Paul Zarogoulidis, Yan-Gao Man, Eleni Georgakoudi, Stelios Mantalovas, George Koimtzis, Alexandros Tsakalidis, Isaac Kesisoglou
J. Biomed 2017; 2(2): 94-100. doi:10.7150/jbm.19834
[Abstract] [Full text] [PDF]
Review
Biomechanics in Orthopaedics
Andreas F. Mavrogenis, Panayiotis D. Megaloikonomos, Georgios N. Panagopoulos, Nicola Maffulli
J. Biomed 2017; 2(2): 89-93. doi:10.7150/jbm.19088
[Abstract] [Full text] [PDF]
Review
Multiparametric Analysis of High Content Screening Data
Karol Kozak, Julia Seeliger, Tomasz Gedrange
J. Biomed 2017; 2(2): 78-88. doi:10.7150/jbm.17341
[Abstract] [Full text] [PDF]
Review
Nanoparticle Design Strategies for Effective Cancer Immunotherapy
Praveena Velpurisiva, Aniket Gad, Brandon Piel, Rahul Jadia, Prakash Rai
J. Biomed 2017; 2(2): 64-77. doi:10.7150/jbm.18877
[Abstract] [Full text] [PDF]
Research Paper
Candesartan suppresses proteinuria and decrease of nephrin expression but hydralazine does not in hypertensive nephropathy
Takashi Kato, Nobuyuki Mizuguchi, Akihiko Ito
J. Biomed 2017; 2(2): 57-63. doi:10.7150/jbm.18881
[Abstract] [Full text] [PDF]
Review
Helicobacter pylori infection: A recent approach to diagnosis and management
Ramesh Rana, Sheng Lan Wang, Jing Li, Ying Xin Wang, Qian Wen Rao, Chang Qing Yang
J. Biomed 2017; 2(1): 45-56. doi:10.7150/jbm.17612
[Abstract] [Full text] [PDF]
Research Paper
A macroscopic analysis of the epidemiology of thoracic aorta atherosclerosis: An autopsy study
Apostolos S. Gogakos, Fotios Chatzinikolaou, Triantafyllia Koletsa, Leonidas Pavlidis, Dimitrios Paliouras, Thomas Rallis, Nikolaos Schizas, Paul Zarogoulidis, Nikolaos Katsikogiannis, Eirini Sarika, Achilleas Lazopoulos, Ilias Karapantzos, Pavlos Sarafis, Nikolaos Barbetakis
J. Biomed 2017; 2(1): 39-44. doi:10.7150/jbm.17983
[Abstract] [Full text] [PDF]
Short Research Communication
Correlation Pattern of Serum Lipid Parameters and a Biological Anti-Oxidant Potential Between Premenopausal and Perimenopausal Healthy Women
Jui-Tung Chen, Kazuhiko Kotani
J. Biomed 2017; 2(1): 34-38. doi:10.7150/jbm.17794
[Abstract] [Full text] [PDF]
Research Paper
Aligning Effectiveness, Secretion of Interleukin 1β and Pain Control During Fixed Orthodontic Treatment with Self-Ligating Appliances and Supplemental Vibrational Appliances. A Randomized Controlled Clinical Trial
Zamira Kalemaj, Jacopo Buti, Andrea Deregibus, Rosana Maria Canuto, Marina Maggiora, Cesare Lorenzo Debernardi
J. Biomed 2017; 2(1): 25-33. doi:10.7150/jbm.17492
[Abstract] [Full text] [PDF]
Review
Advanced Perfusion Techniques - Flow versus Pressure
Maria D. Pappa, Nikolaos V. Theodosiadis, Dimitrios Paliouras, Thomas Rallis, Apostolos S. Gogakos, Nikolaos Barbetakis, Fotios Chatzinikolaou, Nikolaos C. Schizas, Achilleas Lazopoulos, Paul Zarogoulidis, Nikolaos Katsikogiannis, Eirini Sarika, Ilias Karapantzos, Charalampos Charalampidis, Pavlos Sarafis
J. Biomed 2017; 2(1): 20-24. doi:10.7150/jbm.17864
[Abstract] [Full text] [PDF]
Research Paper
Supercontinuum source in the investigation of laser-tissue interactions: "ex vivo" study
Carlo Fornaini, Michele Sozzi, Elisabetta Merigo, Piergiorgio Pasotti, Stefano Selleri, Annamaria Cucinotta
J. Biomed 2017; 2(1): 12-19. doi:10.7150/jbm.17059
[Abstract] [Full text] [PDF]
Short Research Communication
Mushroom Intake and Advanced Glycation End Products in the Skin among Community-Dwelling Elderly Subjects: Preliminary Data
Yaeko Kawaguchi, Shinsuke Nirengi, Kazuhiko Kotani, Junichiro Somei, Takuya Kawamoto, Kokoro Tsuzaki, Yoshikazu Yonei, Naoki Sakane
J. Biomed 2017; 2(1): 8-11. doi:10.7150/jbm.17587
[Abstract] [Full text] [PDF]
Research Paper
A U-Shaped Relationship between Fasting Plasma Glucose and Severity of Sleep Apnea
Georgia Trakada, George Giangou, Paul Zarogoulidis, Lemonia Velentza, Ioulia Antoniou, Angeliki Konsta, Anastasios Kallianos, Asimina Mitrakou
J. Biomed 2017; 2(1): 1-7. doi:10.7150/jbm.17494
[Abstract] [Full text] [PDF]
Research Paper
Social Reintegration and Quality of Life after Spinal Cord Injury: the Greek Paradigm
Ioannis-Alexandros Tzanos, Evanthia Mitsiokapa, Panayiotis D. Megaloikonomos, Vasileios G. Igoumenou, Georgios N. Panagopoulos, Jannis Papathanasiou, George Tzanos, Andreas F. Mavrogenis
J. Biomed 2016; 1: 36-43. doi:10.7150/jbm.16981
[Abstract] [Full text] [PDF]
Mini-review
Neoadjuvant Chemotherapy Followed by Radiotherapy for Laryngeal Cancer
Ilias Karapantzos, Chrysa Karapantzou, Paul Zarogoulidis, Michail Karanikas, Vasilis Thomaidis, Charalampos Charalampidis
J. Biomed 2016; 1: 32-35. doi:10.7150/jbm.16927
[Abstract] [Full text] [PDF]